"THE SEARCH FOR NEW EDUCATIONAL FORMS IN THE UNITED STATES AND ITS INTERNATIONAL IMPLICATIONS" by
Professor Emerita Nina K. Buchanan, PhD, University of Hawaii, USA and Professor Emeritus Robert A. Fox, PhD, University of Hawaii, USA
Abstract
In the three decades since the publication of "A Nation at Risk" in the U.S., a national reassessment of the educational enterprise has taken place (National Commission on Excellence in Education, 1983). The issues of the effects of poverty, of cultural responsiveness and of racial equity have become a central part of the education discussion (U.S. DOE, 2004; Banks, 2005; U.S. DOE, 2013 and many, many more). Criticism of student performance, assessment of the causes of its not being better, or proposals for its improvement are rampant in both the popular press (Bidwell, 2013; Chappell, 2013; Ryan, 2013) and educational research (Institute for Education Sciences, 2008; Reardon, 2011). With rising doubts concerning the ability of traditional public school effectively to educate America's children, many policy makers and educators cite school choice as one of the promising reform strategies to improve k-12 education.
In the Handbook of School Choice (in preparation) six forms of U.S. school choice are cited: vouchers, charter schools, virtual schools, home schools, private schools, and magnet schools. In this proposed Session, we describe each of these forms of school choice and the research evidence these forms have generated. In each case, we compare arguments made both by supporters and opponents and give examples from the U.S. experience. We also briefly describe international variations on each form of school choice.
Keywords:  school choice, educational policy, comparative international education.
(Click the image to access the presentation)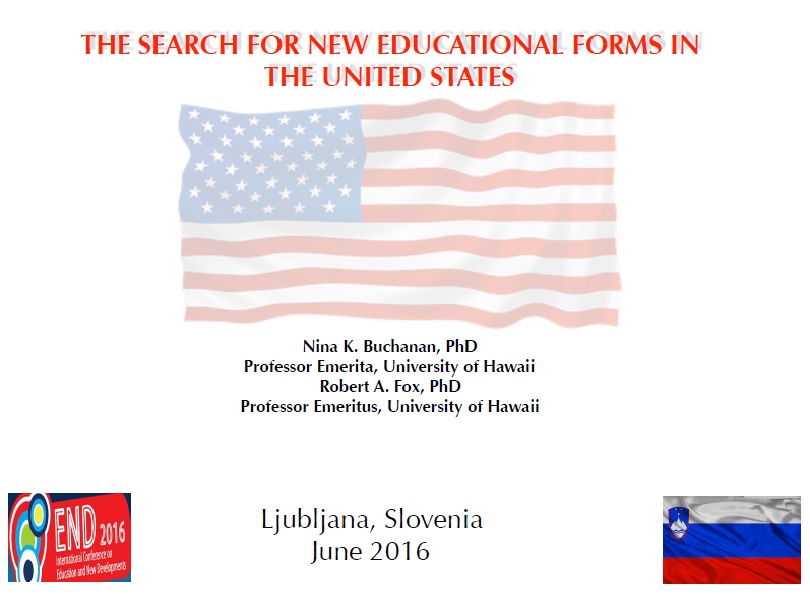 Short Biography
Nina K. Buchanan is Professor Emerita at the University of Hawaii Hilo. She began her professional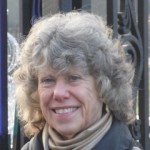 journey on the Montana prairie as a teacher in a one-room schoolhouse where her 11 students taught her the value of psychology and development on learning. Since then her addiction to learning and teaching has led her from Montana to Indiana to California to earn her Ph.D. in Educational Psychology with emphasis in gifted education and cognitive psychology. In addition to teaching students in grades kindergarten through graduate school, Nina is a founder of the West Hawaii Explorations Academy Public Charter School, Hawaii's first chartered high school that has been recognized as a Blue Ribbon School of Excellence and Intel-Scholastic School of Distinction for achievement in science education. Dr. Buchanan has published widely in gifted education, project-based learning and national and international school choice. She is known throughout the state of Hawaii for her service on the first independent authorizing agency, Charter School Review Panel, and for her leadership roles on several different charter school governing boards. At the national level, she in an emerita member of the American Educational Research Association (AERA), active for over 20 years as a founder of both the Research on Giftedness and Talent and the Charter School Research and Evaluation SIGs. She also serves on the advisory board for the Gifted Education Resource Institute in the School of Education of Purdue University. Throughout her career, she has been and active reviewer of proposals for AERA and US Department of Education grants such as the Charter School Program. She was a contributing editor of Roeper Review and is currently a senior editor of the Journal of School Choice. For the past three years Dr. Buchanan has served as Program Chair for the International School Choice & Reform Academic Conference.
Robert A. Fox is Professor Emeritus of Physics at the University of Hawaii Hilo. He retired after having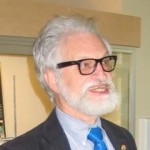 served as Chair of the Department of Physics and Astronomy and Deputy Director of the Pacific International Space Center for Exploration Systems. During that portion of his career, he co-authored 39 papers and presentations on lunar sustainable habitats, atmospheric neutrinos, positron decay, and laser interactions. In addition to his work in physics, Dr. Fox has served as an educational leader and policy maker as an elected member of the Hawaii State Board of Education, responsible for 185,000 students in approximately 200 schools with an annual budget exceeding 2 billion dollars; an ex officio member of the Board of Directors of the National Education Association; Chair of the NEA Higher Education Caucus; Vice Chair of the American Association of University Professors' Collective Bargaining Congress; and President of the University of Hawaii Professional Assembly. More recently Dr. Fox has taken active leadership roles in the American Education Research Association School Choice and Charter School Research & Evaluation Special Interest Groups (SIG). Under his leadership the SIGs have jointly formed the Charter Schools & School Choice SIG. He also has been instrumental in creating the International School Choice & Reform Academic Conference and served as Chair for the past three years. Dr. Fox is a Senior Editor of the Journal of School Choice and has been guest editor of the special issue on School Choice and the Law and co-Editor of two special sections on the 2013 and 2014 Conferences. His wide research interests include collective bargaining in charter schools, state charter school legal issues, and ethnocentric niche charter schools. His most recent book, co-edited with Nina K. Buchanan, is Proud To Be Different: Ethnocentric Niche Charter Schools, was published by Rowman and Littlefield in 2014. His work has appeared in Barack Obama: The Aloha Zen President, Michael Haas, ed., Praeger, 2011 and in The Emancipatory Promise of Charter Schools, Stulberg and Rofes, eds., SUNY Press, 2004. He was an educational book reviewer for the American Library Association. He is the author or co-author of 52 papers and presentations primarily dealing with various aspects of school choice.