Publishing Editors are invited to contact the secretariat and make proposals for publications.

• The best paper authors will be invited to publish extended versions of their papers in the European Journal of Futures Research (Springer):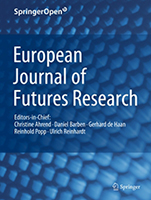 The European Journal of Futures Research provides an international platform for leading and upcoming scholarly work on possible, probable and desirable European and global futures. We invite submissions of articles focusing on both interdisciplinary and disciplinary studies of future societal developments in politics, economics, science and technology and other emergent (and cross-cutting) issues. The journal will publish empirically oriented articles as well as contributions of a more methodological, epistemological or theoretical nature. A central objective of the journal is to strengthen the European dimension of futures research. It also seeks to foster comprehensive analyses of key European policies, such as those for research and education. With these aims the EJFR intends to fill a gap in the research landscape. The EJFR addresses readers in academia, business, government, and civil society in Europe and beyond. More information at European Journal of Futures Research website.

• A book with selected papers from the conference will be published by our co-sponsors: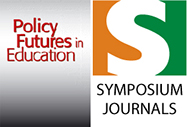 Policy Futures in Education (from Symposium Journals) is a peer-reviewed international journal that is futures-oriented and committed to promoting debate in education among university academics, practising policy analysts in government and local government, national and international policy advisors, politicians, members of policy think-tanks and world policy agencies such as the World Bank, OECD and the European Union. The journal has a strong experimental focus and emphasises innovative thinking in education policy and theory from a range of diverse viewpoints. More information at Policy Futures in Education website.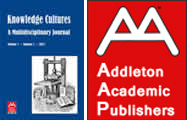 Knowledge Cultures (from Addleton Academic Publishers) is a multidisciplinary journal that draws on the humanities and social sciences at the intersections of economics, philosophy, library science, international law, politics, cultural studies, literary studies, new technology studies, history, and education. The journal serves as a hothouse for research with a specific focus on how knowledge futures will help to define the shape of higher education in the twenty-first century. In particular, the journal is interested in general theoretical problems concerning information and knowledge production and exchange, including the globalization of higher education, the knowledge economy, the interface between publishing and academia, and the development of the intellectual commons with an accent on digital sustainability, commons-based production and exchange of information and culture, the development of learning and knowledge networks and emerging concepts of freedom, access and justice in the organization of knowledge production. More information at Knowledge Cultures website.